Serving Critical Access Hospitals and Flex Programs
Critical Access Hospitals (CAH) in the Medicare Rural Hospital Flexibility (Flex) Program play an essential role in sustaining rural health care.  Since 1999, Technical Assistance and Services Center (TASC), a program of the National Rural Health Resource Center, has provided information, tools and education to CAHs and to individual State Flex programs.
Through a cooperative agreement with Health Resources and Services Administration's Office of Rural Health Policy (ORHP), TASC has supported the conversion of over 1,300 prospective payment hospitals to Critical Access Hospital (CAH) status.
TASC supports the 45 participating state Flex programs as they:
Integrate emergency medical services into the rural medical delivery systems
Build rural hospital networks to exchange information, obtain economies of scale and collective volume, and increase cost efficiency and overall effectiveness
Improve quality and overall organizational performance
TASC has a comprehensive network of rural health resources to support Flex Coordinators and other State Flex personnel. TASC Rural Health Network Map [PDF - 1.08 MB]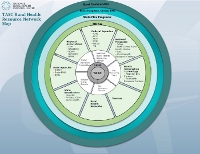 TASC support focuses on performance improvement, HIT, networking, and community health assessment.
TASC also provides a forum for Flex Coordinators and other State Flex personnel to communicate with one another on the above topic areas.
The Balanced Budget Act of 1997 created the Medicare Rural Hospital Flexibility Program, a nationwide initiative that established the Critical Access Hospital (CAH) as a new category of hospital eligible for cost based Medicare reimbursement.
For more information, please contact Tracy Morton at (218) 727-9390 ext. 227 or tmorton@ruralcenter.org.