Project Outcomes
All the hospitals participating in the Integrated Behavioral Health (IBH) Program identified a target population and project goals. Next, they convened a community-wide strategic planning meeting to identify community strengths and barriers to reach their goal and identify strategic objectives to drive their strategy.
Cohorts 1 and 2 both completed their project implementation and reported measurable and non-measurable outcomes. Promising practices were identified from their reported successes. Cohort 3 is beginning project implementation and does not yet have outcomes to report.
Cohort 1 has measurable and non-measurable outcomes, as well as accomplishments to share. Read details of each of the Cohort 1 hospital project outcomes on the Hospital and Community Teams page. Watch the short video spotlights below:
Below is a summary of the common themes that emerged from the IBH projects. 
Target Population
Over half of the hospitals chose to target the adult population who present to the Emergency Department (ED) in a behavioral health (BH) crisis, who present to the ED with depression or anxiety, or alcohol/substance abuse. Among hospitals, 15% chose to focus on all ages of patients presenting to the ED in a BH crisis while 23% focused on the younger population and their families, aged 5-40 years old.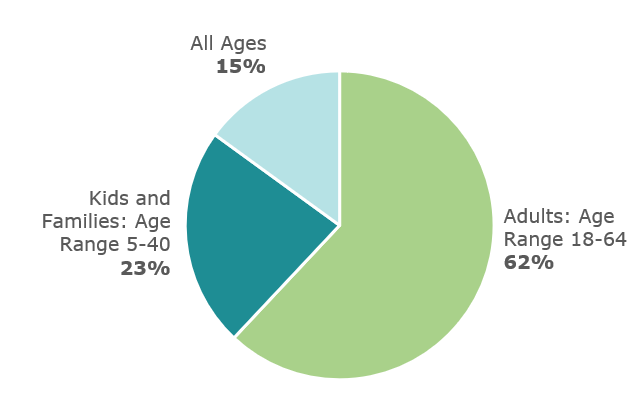 Project Goals
Decrease ED visits through increased outpatient management and coordination of care 
Discharge patients appropriately with the right supports to maintain stable mental health status
Determine the appropriate level of triage for those in a BH crisis
Identify community resources and gaps in care with the establishment of a community-based care coordination team
Improve processes for tracking referrals and care coordination
Reduce police department interventions; decrease rapid response; improve student achievement; increase safe zones
Prevent or reduce behavioral health crisis-related readmissions to the ED
Obtain faster screenings to reduce readmissions to ED
Create a directory of community services to improve provider knowledge and patient access and utilization of community resources 
Early identification to prevent BH crisis
Strengths and Barriers
Hospitals and their communities worked together to identify the gaps in care in meeting their target population's behavioral health needs. They also worked together to identify their strengths - what they were already doing to help their target population with their BH needs. Common themes emerged among the strengths and barriers.
The top strengths:
Community resources were already in place
Already working on care coordination or had some sort of care team 
Have a caring community
Existing collaboration/partnerships
Available access to care 
Education was available 
Existing holistic person-centered care
The top barriers:
The stigma of mental illness and substance abuse
Care coordination of services during and after care
Community and service provider education
Communication and information sharing
Funding available 
Policy and government limitations
Lack of resources
Transportation for transfers
Workforce shortage
Strategic Objectives
As part of the strategy mapping process, hospitals identified specific objectives to drive their strategy. There were many similarities and common themes.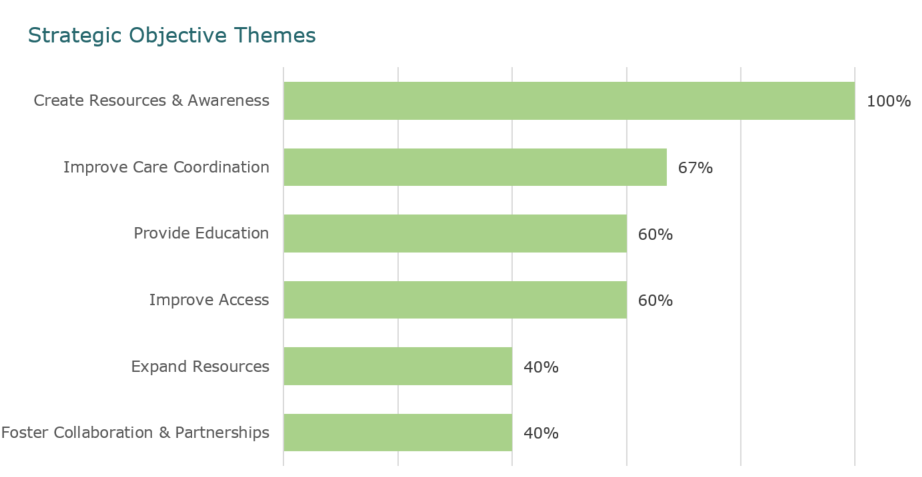 Outcomes
Read details of each of the Cohort 1 hospital project outcomes and accomplishments on the Hospital and Community Teams page. Cohort 1 hospitals reported:
Increased access to BH services
Decreased transfers to inpatient settings
Increased "discharge to home"
Decreased cost of transferring ED patients as well as cost of ED visits
Decreased ED visits and admissions 
Decreased mental health holds
Decreased Patient Health Questionnaire (PHQ-9) scores at six-month follow-up 
Decreased jail-psychiatric transfers
Major Accomplishments
Read details of each of the Cohort 1 hospital project outcomes and accomplishments on the Hospital and Community Teams page. Cohort 1 hospitals reported:
Improved collaboration among agencies lead to decreased holds placed on patients
Improved care coordination
Upgraded suicide screening
Increased education with ED nurses resulting in increased use of crisis mobile unit and decreased length-of-stay
Added a social worker who had been trained as a quasi-community worker to act as a resource for the ED
Increased school utilization of the crisis team rather than bringing students to the ED
Implemented a community paramedic program
Added a psychologist on staff
Increased telehealth usage to provide education and promotion
Increased outpatient medication management with a nurse practitioner to decrease the need for inpatient care
Improved communication among agencies through the creation of a universal Release of Information (ROI)
Improved assessment of cardiac rehab patients for behavioral health issues to provide stress management to them
Improved prevention of acute situations 
Provided system-wide mental health first-aid education for nurses 
Created a community-wide behavioral health resource directory
Created a Roving Therapist position to counsel inmates with depression and anxiety, resulting in zero inpatient psychiatric transfers
Refer to Promising Practices page to learn more about IBH Project best practices.