Grant Memorial Hospital, Petersburg, West Virginia
Organization:
National Rural Health Resource Center (The Center)
Grant Memorial Hospital (GMH), located in Petersburg, West Virginia (WV), is one of three critical access hospitals (CAHs) that received national recognition for demonstrating an innovative approach to collaboration through telehealth. They have successfully minimized barriers by connecting rural populations to needed health care in order to address clinical issues and patient needs, as well as provide support, resources, and education.
GMH implemented telemedicine programs for behavioral health and cardiology. For these telehealth initiatives, they referred to GMH's strategic plan which in turn drives annual operational goals. Through the development of annual goals, Grant Memorial focused on their mission and vision to determine how they can be innovative in supporting pressing needs in their community.
For example, their behavioral health initiative initially started in their emergency department (ED) to help ED physicians have immediate access to board-certified psychiatrists to help support a variety of patient care needs in their ED. But GMH saw that the behavioral medicine approach did not need to stop at the ED. Through innovative dialogue internally, they identified a school-based need. Prior to the pandemic, GMH was ready to expand this service to the high school level in two different counties to help students gain access to emergency behavioral needs without having to come to the ED. They identified that in the prior year, nearly 50 ED visits occurred for student-based urgent behavioral health needs. While the pandemic delayed this launch, they will get it back up and running as soon as schools are back in session.
They also realized they have a need for cardiology support. Patients who present in their ED with cardiac care needs are often transferred to Morgantown, WV, or Winchester, Virginia (both one-way trips are approximately 1 hour 30 minutes to 1 hour 45 minutes away). After their care at these tertiary facilities, patients had to go back for follow-up visits – creating long, undesirable drives that would impact compliance with follow-up care.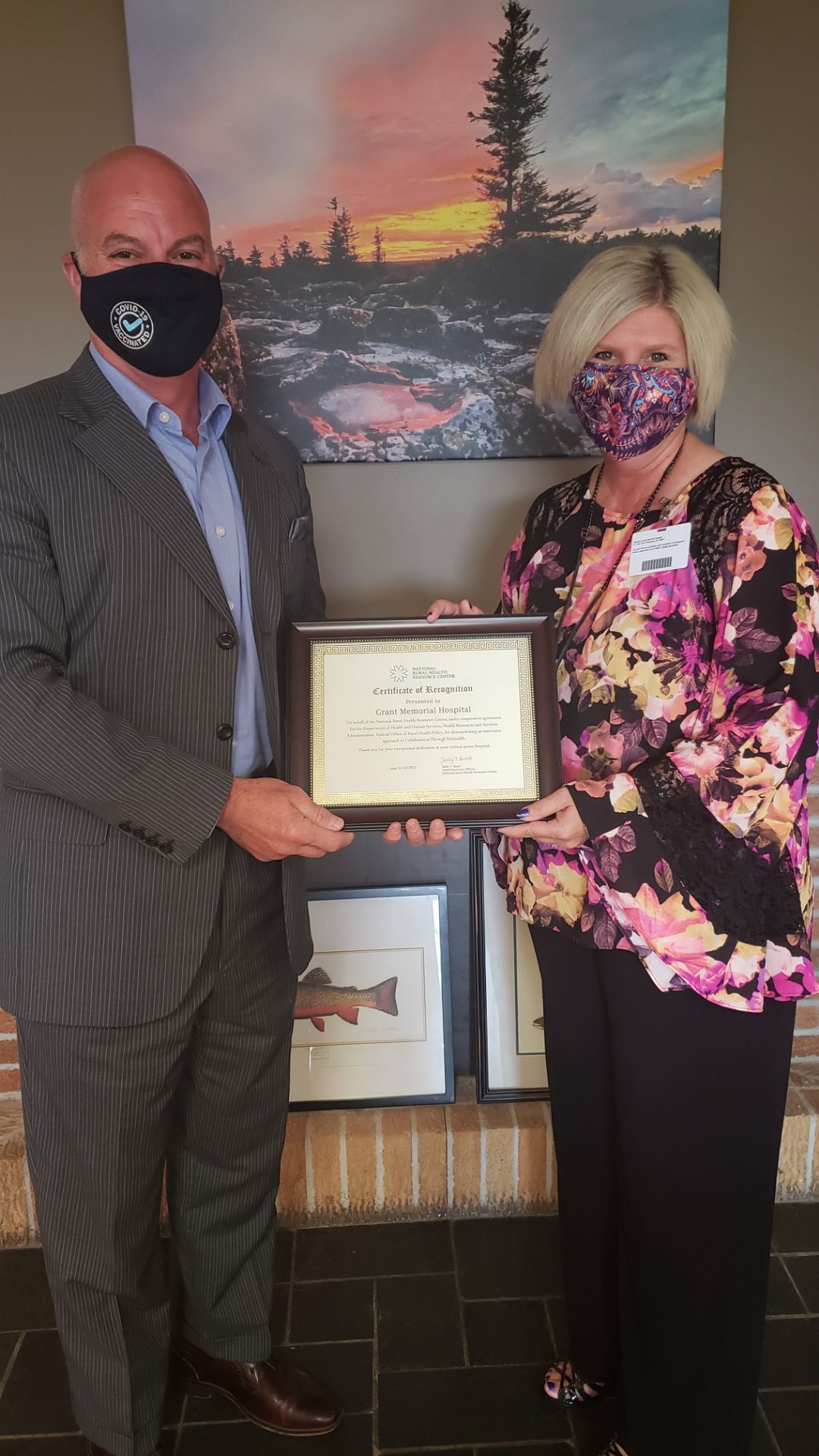 Bob Milvet, CEO, Grant Memorial Hospital accepting recognition certificate from Lisa Lewis, Hospital Programs Manager, West Virginia State Office of Rural Health.
Positive Outcomes
Patients now have immediate access to a telemedicine-based physician.

GMH has helped significantly reduce travel time for patients by creating closer-to-home care. As a result of this, they are seeing increased patient compliance with their health care needs.

The telebehavioral program has reduced the burdens, challenges, and access barriers for behavioral health needs. It has also allowed them to start a collaboration with a local behavioral services organization to provide recovery coaching services in their ED. If a patient that is suffering from a substance use disorder presents to their ED, they can connect the patient with a recovery coach and a psychiatrist via telemedicine to discuss their recovery needs and options.

All listed initiatives have helped reduced costs by avoiding ED visits.
Top Accomplishments
As of July 2021, GMH's telemedicine portfolio now includes psychiatry, stroke care, and cardiology. They will be expanding these services to include oncology in late Summer 2021.  
For the school-based behavioral health initiatives, the ultimate goal is to help provide immediate access to student emergency needs. There are a lot of barriers or challenges with students having to be transported to the ED for these emergency needs including but not limited to: transportation to ED and at discharge, parents not consenting to care, parents not involved, need for Childs Protective Services (CPS) intervention if parental consent not provided, and delayed time to treat if emergency medical services or other transportation not immediately available. Having telemedicine access in the schools for these emergent needs breaks down many of these barriers and reduces what could be an unnecessary ED visit.
Cardiology patients can now see a doctor through the telehealth program on the local campus, and get their lab work and cardiac rehab service at the hospital as well. This eliminates long drives to tertiary hospitals and increases compliance to follow-up care.
"I am elated the National Rural Health Resource Center recognized us for the work we are doing to improve access to care throughout our five-county service area using telemedicine," said Bob Milvet, CEO at GMH. "This recognition is another example of how critical access hospitals like ours are innovative leaders in utilizing technology to bring specialized services to our communities."