Madison Medical Center's Strategic, Financial and Operational Assessment
Organization:
National Rural Health Resource Center (The Center)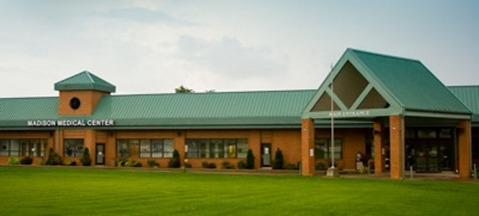 (PNG Image)
Madison Medical Center (MMC) in Fredericktown, MO, took part in a Strategic, Financial and Operational Assessment as part of the Delta Rural Hospital Performance Improvement (RHPI) Program. The focus of this consultation was to improve the financial and operational performance of the hospital by identifying strategies and tactics to increase patient volume and market share as well as increase payments for services provided, improve physician practice management operations and manage operating expenses.
Madison Medical Center has a lot of wonderful things going for it including strong and dedicated clinical managers that result in high performing ancillary and outpatient departments. They have a new high-quality leadership team that has created a culture of accountability throughout.
Objectives of this consultation:
Improve total margin from 0% loss (source: 2009 Medicare Cost Report) to 2% through reduction in patient out-migration by identifying strategies to recapture important inpatient and outpatient volume;
Improve cash flow and overall reimbursement through improved revenue cycle functions with focus on policies and procedures related to patient admissions, health information management, business office, and charge master;
Improve cash flow and overall reimbursement through improved physician practice operations through benchmarking of the rural health clinic to other peer practices and best practice performers;
Ensure staffing levels, on a department level, are appropriate relative to benchmarks, given current or targeted patient volume; and
Determine whether there are other opportunities to increase revenue through both traditional and non-traditional sources.
In an interview with RHPI Project Staff Member, Rhonda Barcus, the CEO of Madison Medical Center, Lisa Twidwell, discussed the project's outcomes and future direction.
Q: What were your hospital's anticipated outcomes?
A: The anticipated outcomes were:
Improve financial performance from a loss to breakeven on an annualized basis; and,
Increase net patient revenue by 5% on an annualized basis through growth in volume and increased payment per unit of service. We were hoping to increase our days of cash on investments on hand by 10 days by April 1, 2012.
Q: What were the actual outcomes of this project?
A: We surpassed our goal to break even. For fiscal year (FY) 2011, we achieved a $150,000 positive bottom line. We have also reported growth in net revenue. From 2010 - 2011, there was a 3% increase in net revenue. Another outcome was that we increased days cash on hand from 20 days to 48 days by March 31, 2012.
Q: What are the expected next steps towards adopting your consultants' recommendations? Is there a sustainability plan?
A: We have started implementing many recommendations and will continue to for the upcoming year. Emergency room admissions rate was low in the past and we really focused on this. We have hit our target 4 out of 5 months. Physician clinic offices were to increase visits and we have exceeded targets every month. We finished renegotiating our hospital managed care contracts to increase reimbursement rates. The nursing home has met our targeted census goal of having at least 75 residents 3 out of 5 previous months. We are really starting to show good outcomes that affect financials. We also plan to follow up with implementing the 340B drug program.
Q: Is there anything your hospital would do differently if you were able to repeat this experience?
A: No, it was a great experience for us. The only improvement recommendation I would have would be to repeat this type of project every 3 to 5 years to continue to identify new opportunities.
The overall impact of the project:
Keeps focus for the hospital
Patient volumes have increased
Positive financial impacts
Improved understanding of business aspects for department leaders
Provided the Board with an expert opinion
Madison Medical Center is a 25-bed critical access hospital with an 85 staffed bed Nursing home, two provider-based rural health clinics and a home health agency.