Essentia Health-Northern Pines
Essentia Health-Northern Pines is a 15-bed critical access hospital located in Aurora, Minnesota. They stand by their mission to make a healthy difference in people's lives while valuing quality, hospitality, respect, justice, stewardship and teamwork.
In 2015, the hospital began participating in Rural Health Innovation's Integrative Behavioral Health Program funded by the Minnesota Department of Health, Office of Rural Health and Primary Care.
Essentia Health-Northern Pines Medical Center identified key partners and convened a multi-organizational community mental health task force. This team identified a need for specialized resources/providers and community infrastructures; increased education to decrease the stigma of mental illness; better coordination of current services and improved early intervention as barriers in meeting their population's behavioral health needs.
 
| | |
| --- | --- |
| Project Goal | Discharge patients appropriately with the right supports to maintain stable mental health status |
| Target Population | All individuals who present in the emergency department (ED) in a behavioral health crisis |
Strategic Objectives
Create community awareness and increase knowledge of behavioral resources
Enhance provider networking
Improve access to care
Streamline coordination of care
Create needed supports not currently present for this population
Positive Outcomes Within 12 Months 
Decreased cost by 56% for behavioral health patients who present to the ED and need to be transferred 
Increased behavioral health access 
Decreased behavioral health ED visits by 27% (see chart below)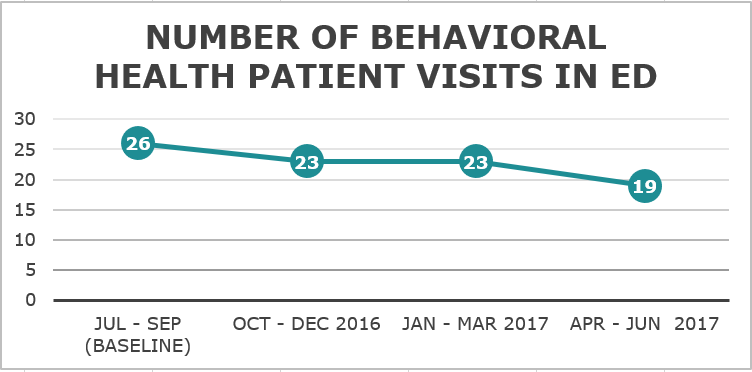 Top Accomplishments 
Hired a social worker who has been trained as a quasi-community worker as a resource for the ED 
Implementation of a community paramedic program 
Telehealth usage has increased, with continued provides education and promotion