LifeCare Medical Center
LifeCare Medical Center a 15-bed critical access hospital located in Roseau, Minnesota. LifeCare Medical Center takes great pride in their compassionate staff, dedicated physicians and modern facilities.
In 2015, the hospital began participating in Rural Health Innovation's Integrative Behavioral Health Program funded by the Minnesota Department of Health, Office of Rural Health and Primary Care.
LifeCare Medical Center identified key partners and convened a multi-organizational community mental health task force who identified community education awareness on mental health issues; information sharing between schools, law enforcement, health care, social services and court system; and availability of transportation to inpatient settings as barriers in meeting their population's behavioral health needs.
Project Goals

Reduce inpatient admissions
More appropriate use of the emergency department (ED)
Provide care at the appropriate level 

Target Population
10-40-year-old ED patients requiring immediate assessment and at risk for inpatient mental health placement or crisis
Strategic Objectives
Create community awareness
Create education of first point of access
Establish roadmap, logistics, and infrastructure for coordinating care
Develop a care plan
Address transportation issues
Positive Outcomes Within 12 Months 
Decreased transfers to inpatient settings from ED
Decreased number of ED visits with behavioral health diagnosis (see chart)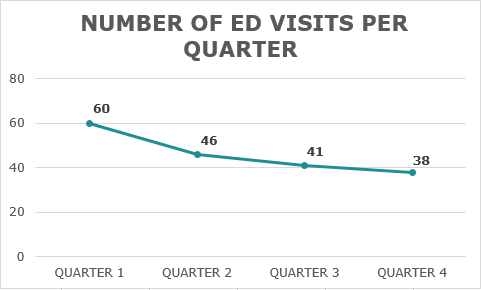 Top Accomplishments
Continue with mental health first aid education
Created a Roving Therapist position to counsel inmates with depression and anxiety

Patients brought to ED from jail have decreased
Inmates seen by the Roving Therapist have resulted in zero psychiatric transfers