Reach the Summit in Four Steps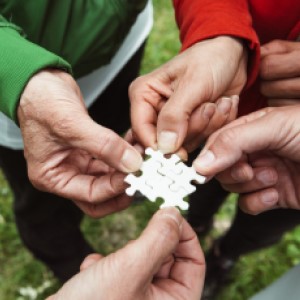 Rural Health Innovations' (RHI) services include education, resources, and facilitation for cohorts of hospitals that are ready to climb toward population health and improve the health status of their communities. Change takes time and the rural path to value is a multi-year approach.
A Flexible Approach
A successful path to value and population health is determined uniquely by each rural community. With collaboration in mind, we support rural communities in a variety of ways because every community is different.
Health care and community leaders can better understand the changing health care landscape and find innovative solutions to address health outcomes when they help each other learn and engage in designing and implementing care coordination solutions. When the community comes together for planning, care coordination can be designed to address social determinants of health. This allows rural hospitals and their community partners to do the important work of integrating care between primary care, long term care, behavioral health, and other community services. 
Step One: Aiming for the Summit
Get everyone on the same page and understand why the journey toward population health is important for long-term community wellness. Engage all of the partners to collectively aim toward solutions that are right for their communities.
Activities
Example Outcomes

Group education via workshops and webinars
Virtual Population Health Readiness Assessment
Individual community profiles that include population health needs and organizational readiness for population health management utilizing secondary data and assessment
Individualized strategic planning events

Improved awareness and understanding of concepts regarding population health, partner strengths, and resources
Identified gaps and knowledge in community resources
Customized community population health profile
Customized organization strategic plan
Step Two: Collaborating for Success
Bring diverse care teams from different communities together to learn about putting the right care coordination model into place. Identify actionable steps to coordinate care for topics like chronic care management, substance use disorders, behavioral health, or wellness initiatives.
Activities
Example Outcomes

Cohort workshops
Peer learning calls
Individual community planning events
One on one coaching calls

Customized organization care coordination models
Improved referral patterns
Decreased no-show rates
Improved patient satisfaction
Improved medication reconciliation
Step Three: Navigating Toward Wellness
Focus attention on integrating care between, and within, care team partners, including community stakeholders and partners. Provide solutions to improve health status when navigating social determinants of health. Integrate care coordination with community partners to break down silos and encourage sustainable solutions that improve community health status.
Activities
Example Outcomes

Cohort workshop or group education
Peer learning calls
Individual community planning events
One on one coaching calls

Customized action plans
Sustainable model that can measure behavior change or improved health status, such as decreased inappropriate emergency department use, increased referrals to primary care, reduced readmissions, and improved chronic care management
Step Four: Staying the Course
One on one action planning with individualized technical assistance and support to ensure implementation sticks and progress can be thoroughly evaluated. This is vital for helping each community monitor their progress and adapt to whatever comes their way.
Activities
Example Outcomes

Individual action planning events
Peer learning calls
One on one coaching calls

Measures and targets for each action plan step that funnel into overall strategic planning
Get Started
To get started, contact Tracy Morton at (218) 216-7027 or tmorton@ruralcenter.org.